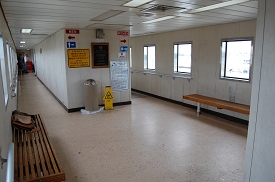 TX DOT GALVESTON FERRIES – RAY STOKER JR.
Texas DOT – Galveston Ferries – Ray Stoker Jr., located in the Southwest Shipyards of Houston, TX, came to PCS to complete a multi-tiered project that included the following:
Demolish 1,200 SF of existing epoxy flooring and A60 underlayment down to original steel deck
Re-install 1,200 SF of new A60 insulation and new IMO approved epoxy flake system flooring
Install 4 TX Dot custom decal iInlays
Install 4″ rubber base
Additional considerations included the use of products that conform to A60 Fire Resistant ratings, IMO and Coast Guard Approved products. Surfaces need to be corrosion resistant, salt water resistant, waterproof, non-slip, and abrasion resistant. Appearance of flooring needed to be decorative.
Marine Decking Products Used:
American Safety MS-11CZ – Anti-Corrosive Steel Primer
PolySpec® 7K – IMO Approved Deck Top Magnesium Insulation
PolySpec® FLEX IMO – IMO Approved Flexible Decorative Chip Seamless Floor
TuffRez® 236 with Aluminum Oxide – Polyurethane Coating
View TX-DOT – Galveston Ferries – Ray Stoker Jr. Project Profile