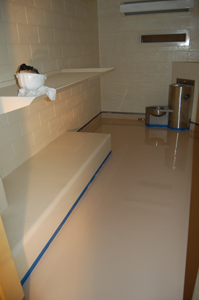 SAN BERNARDINO JUVENILE DETENTION FACILITY
The San Bernardino Juvenile Detention Facility in San Bernardino, CA came to PCS for the flooring repair of 168 holding cells, including common showers. To acquire state approval of this project, a mock-up area had to be installed.
Other key considerations for this project included the following: 1/ the floor surface needed to be completely seamless for ease of cleaning, and durable to prevent degradation, 2/ the floor needed to have a slight non-slip surface, but not one that was too aggressive for the inmates' feet and 3/ the overall color scheme needed to be neutral to match facility's overall finishes.
Commercial Flooring Products Used:
PolySpec® 300 EX – Epoxy Performance Primer for Concrete
TuffRez® 201 – Epoxy Floor Coating | Chemical Resistant
TuffRez® – Non-Skid Grit
TuffRez® 236 – Polyurethane Coating | Orange Peel
View San Bernardino Juvenile Detention Facility Project Profile